Ofe ugbogoro (melon leaf soup) is an Igbo soup from eastern Nigeria. It is super fresh and clean tasting and usually a one day soup. In order to enjoy this soup and take full advantage of the freshness of the vegetables, it is best eaten once it comes off the heat. This doesn't mean it will taste much worse when eaten later, just that the crispness of the leaves won't be as pronounced. The leaves are very seasonal usually abundant and easily obtainable during the rainy season.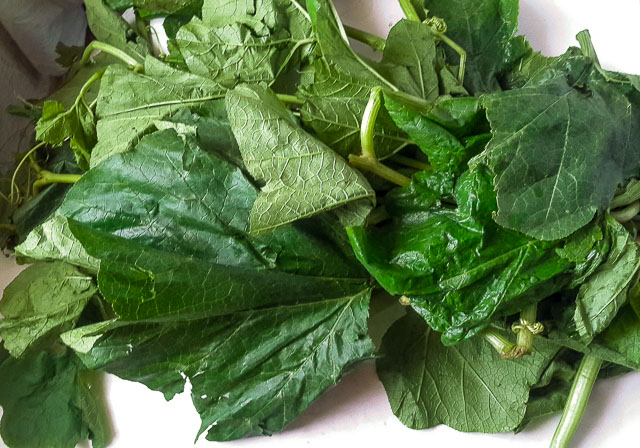 Ofe ugbogoro was the only food, I could hold down when I had morning sickness for Son number 1. I didn't care that it had to be warmed from the freezer every day. There is something very clean and uncomplicated about the soup. Thanks to my Aunty Rose who made sure I always had it available until I started feeling better.
This proportion is for only 1-2 people. It is not stressful to make, so I never really make a large quantity, just enough to finish at once. Also, it shouldn't be overcrowded with the vegetables. You can reduce the amount of oil used, especially if you are just going to drink it without any accompaniment. It is similar to okro soup, see simple and fresh okro soup.
This leaf ugbogoro is not the regular egusi (melon) or watermelon leaf. Some people call it pumpkin leaf, some academic papers call it melon leaf, from its morphology, you can even call it squash leaf. They are all from the gourd family. Some things are actually lost in translation.
To prepare Ofe Ugbogoro (melon leaf soup)
meat
dry fish 
stock fish
130g ugbogoro leaf (melon leaf)
130g okra
1/4 cup palm oil
2 tablespoons + 1/2 tablespoon crayfish
salt
scotch bonnet (fresh pepper)
1 1/2 cups stock + water
1 small onion (1/4 cup chopped onion)
1 seasoning cube
Wash meat and stock fish, place in a pot and season with salt and seasoning cube. Boil until almost tender.
Place dry fish in boiling hot water for about 2 minutes, drain and rinse thoroughly in cold water. Add dry fish to the pot of boiling meat.
Pick, Ugbogoro leaf, remove fibrous stem and wash thoroughly with several changes of water.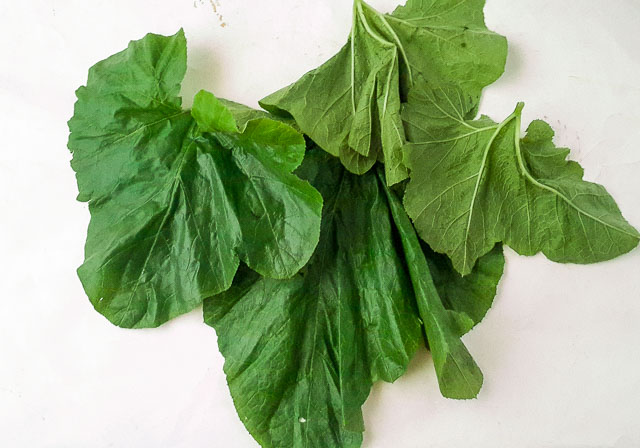 Shred leaves into large pieces.
Wash and cut okra into big chunks about 3/4 to 1-inch thick.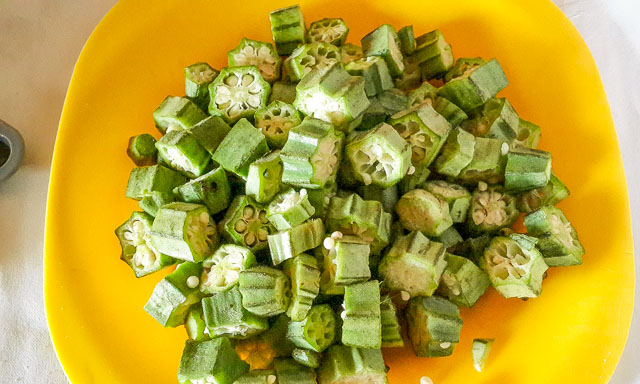 Warm palm oil but do not bleach. Fry okra, onions and pepper for 30 seconds.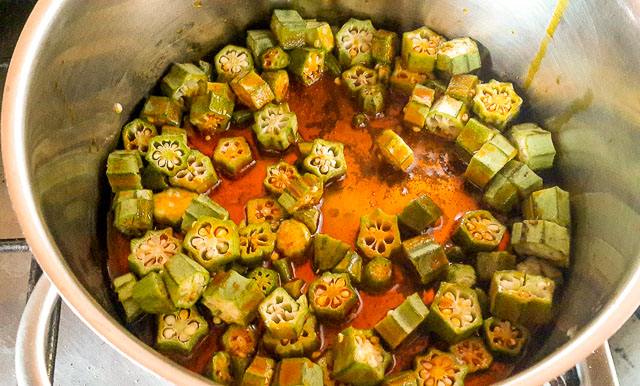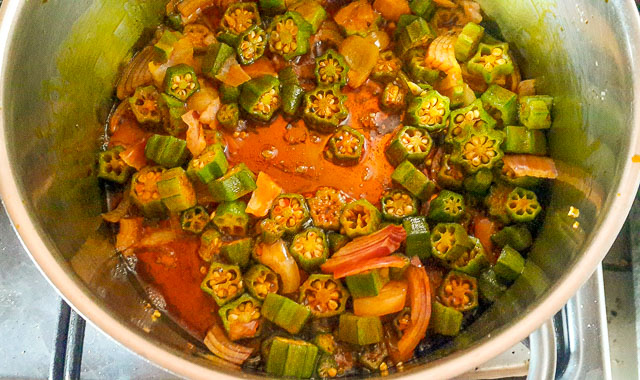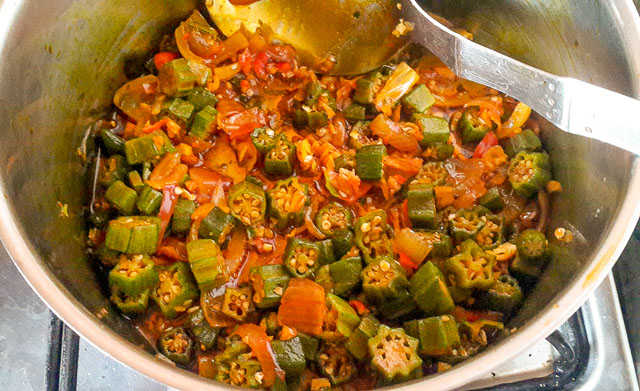 Add crayfish, stir well, all the time being careful not to break up the okro.
Pour in 1 cup of meat stock.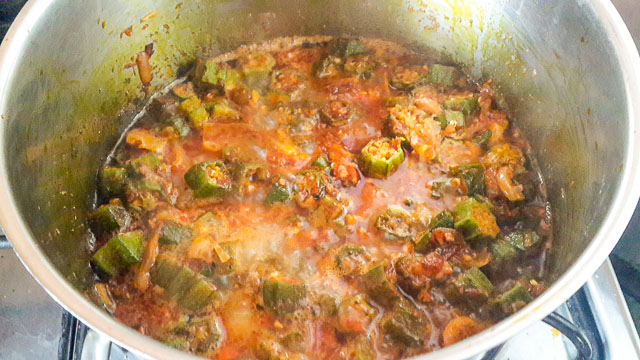 Add meat, stock fish, dry fish and seasoning cube. Stir and taste, add salt.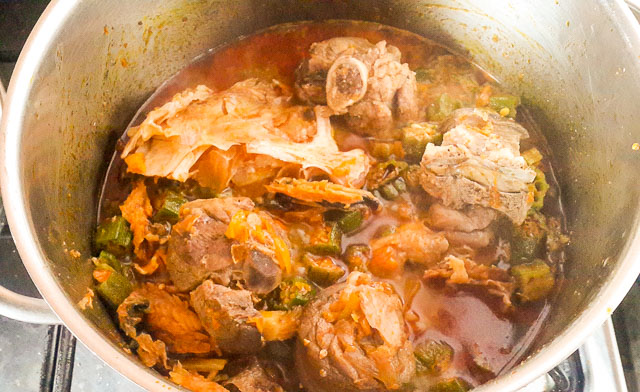 Cook for about 5 minutes over medium heat, checking if okra is tender but not mushy.
Add shredded ugbogoro leaves (melon leaves), stir and taste.
Add 1/2 tablespoon crayfish and the 1/2 cup of stock if needed.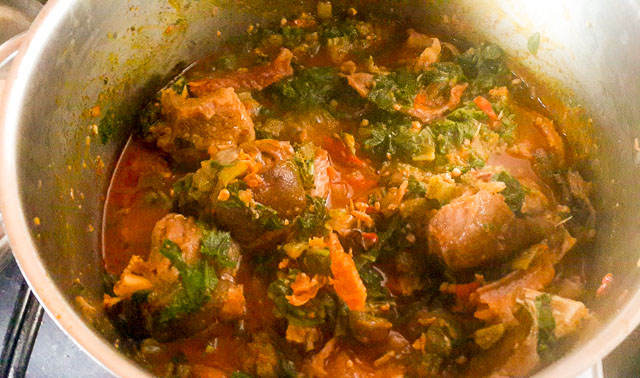 Cook for 2-3 minutes and take off the heat.
Serve Ofe Ugbogoro with a side of swallow, rice, agidi/eko etc. You can also drink it as a soup.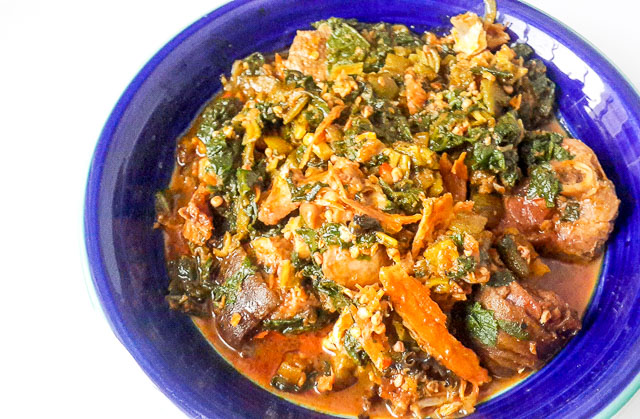 Note:
Ugbogoro is a vine and is sometimes left to grow close to the ground, so with the rains splashing sandy water on the leaves, extra care should be taken to rinse it in several changes of water.
Ugbogoro soup (melon leaf soup) is supposed to be light and almost watery like pepper soup.
Do give Ugbogoro soup a try and let me know how much you enjoyed it.
Do you have any comments, questions or suggestions, please leave a comment below.
Subscribe to the blog for instant notifications of new recipes, leave your email address in the box above.
Please share this recipe using the share buttons.
Follow on Instagram: @thepretendchefofficial, Twitter: @thepretendchef Facebook: https://web.facebook.com/thepretendchef/, Pinterest: https://www.pinterest.com/thepretendchef/