Agidi jollof took plain ol' agidi (eko) and made it into a delightfully flavoursome dish, just like what jollof rice did for white rice.
While growing up, there were many things my siblings and I were not allowed to buy or eat, one of them was Agidi jollof because it is street food. My Mother was a public health nurse/midwife. My first taste was as an adult and I didn't like it, it took me a few years to try it again, but this time it was amazing. The recipe was on point.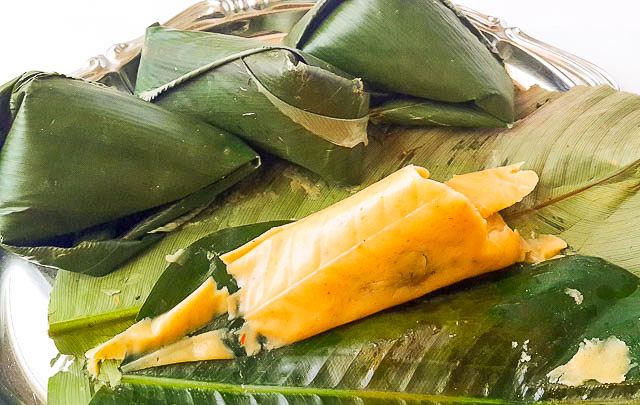 The taste and feel of Agigi jollof grows on you. Take the mouth-feel of jollof rice off your mind, because Agidi jollof has the texture of Agidi (eko, corn paste pudding), the flavour of jollof rice and there's the gem hidden inside, a soft and juicy piece of bony meat.
The meat needs to have bone in it because the bones gives the stock more depth and body. Also, long after you have finished your agidi jollof, you will find yourself still sucking on that flavoursome piece of bony meat. I love using goat or lamb trotters or any spongy bone.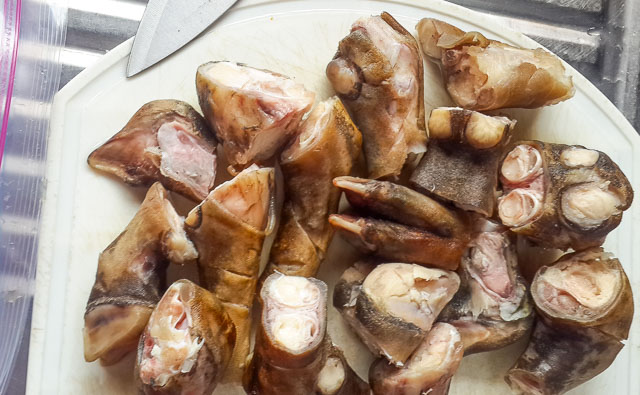 This recipe is true to the type sold on the streets. The bony meat is cooked for a very long time till it is really, really soft. The long cooking, in addition to the bones, produce a very rich and sumptuous stock. Get the flavour of your stock right, and your Agidi jollof will be a winner.
It is usually wrapped in 'Uma' leaves or banana leaves but can also be set in any container, and just like jelly or moi moi, it will take the shape of the container. You can use aluminium foil, muffin/cupcake pans, etc.
I sometimes use the oil drained from my Tomato Stew Base which packs a lot of flavour on its own and makes gives my agidi jollof a glossy, deep orange look.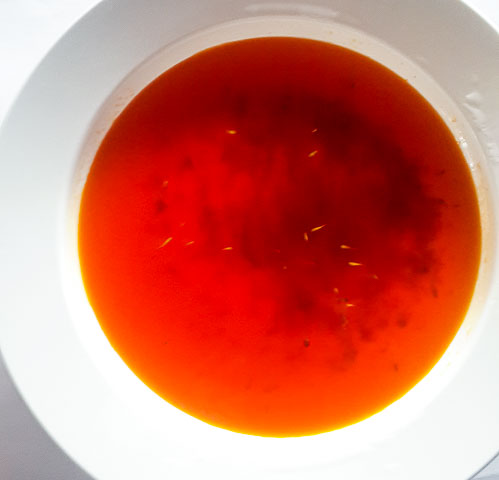 To make Agidi Jollof:
1 cup corn paste (pap)
1-2 cups boney meat (cut in 1-2 inch pieces)
1 teaspoon chilli powder
1/4 cup vegetable oil
1 medium onions, finely chopped
4 teaspoons tomato paste
3 1/2 cups stock + water
2 seasoning cubes
1 tablespoon coconut powder
salt
1 teaspoon ginger/garlic paste (optional)
Set aside the clean container of choice for your agidi jollof.
Wash and place bony meat in a pot, season with salt, seasoning cube and a little bit of chopped onions. Add chilli powder and water. Boil meat till it is very tender.
Remove the meat and strain the stock to remove bits of bones and onions. Set aside.
In a dry pot heat up vegetable oil, add chopped onions and fry till soft.
Add tomato paste, fry to remove its raw taste. Add stock and enough water to make 3 1/2 cups.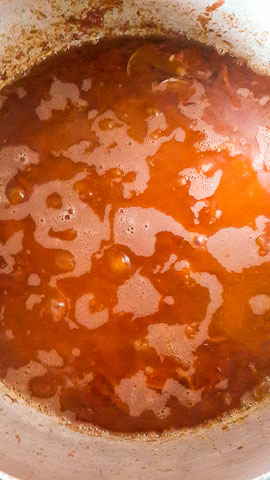 In a small bowl mix coconut powder with a little water, add the coconut and seasoning cubes to the boiling stock, taste, add salt.
In a bowl, mix corn paste with 1/2 cup + 2 tablespoons (10 tablespoons) water.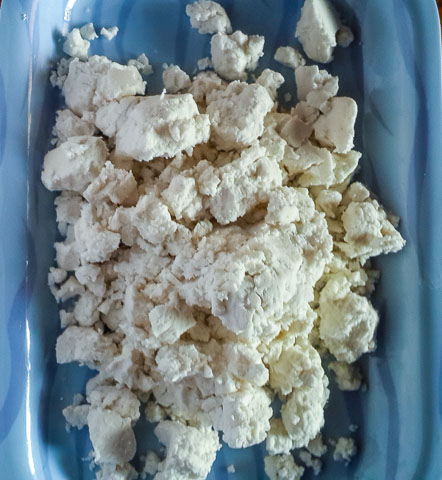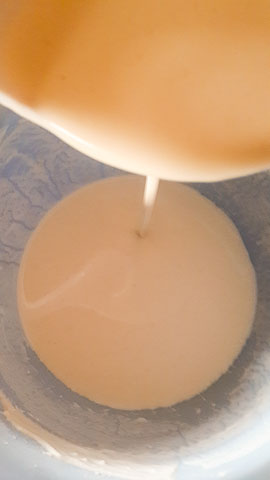 Stir till the mixture is smooth and lump free. The consistency should be slightly runny, see picture above.
Bring the meat stock to a boil. Start pouring the corn paste slurry into the boiling stock, in a thin, steady stream stirring vigorously with a wooden spoon.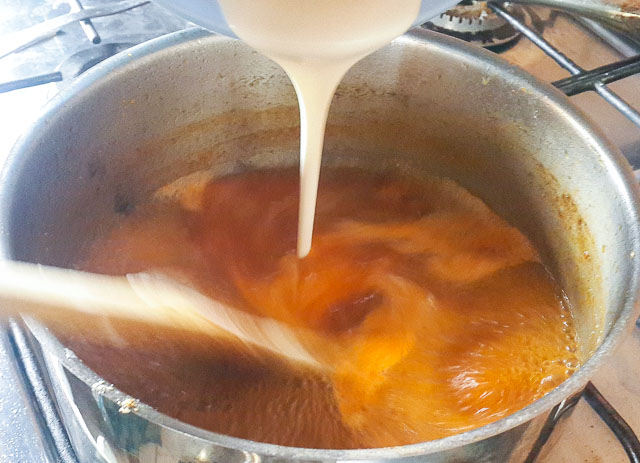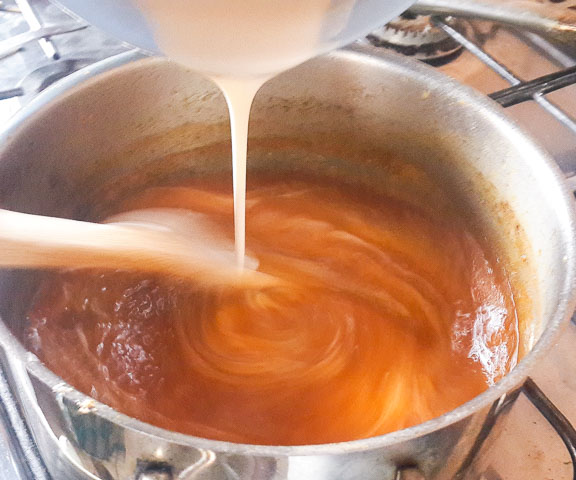 Initially, the pap will thicken and pull away from the sides of the pot.
Reduce the heat slightly and keep stirring, after awhile, it will thin down a bit and become slimy and sticky. Turn off the heat.
Pour in the meat and stir very well so that the agidi jollof will enter all the crevices of the meat.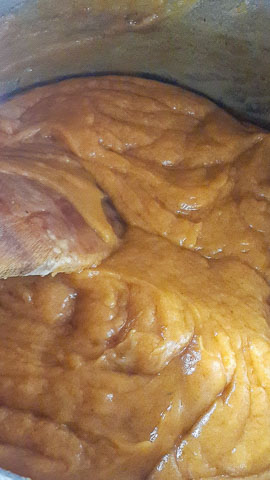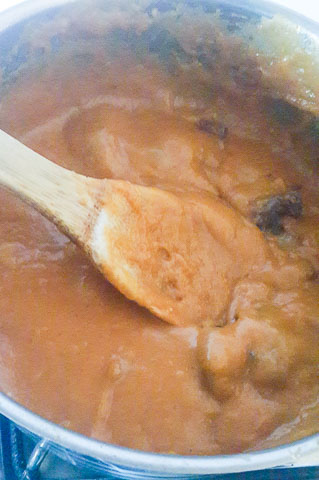 Scoop into your containers or wrap in 'uma' leaves, banana leaves or foil pockets. You need to work fast because as it cools down, it solidifies. To get a smooth finish, it needs to go into the container hot and liquid. Set aside to cool down well and set.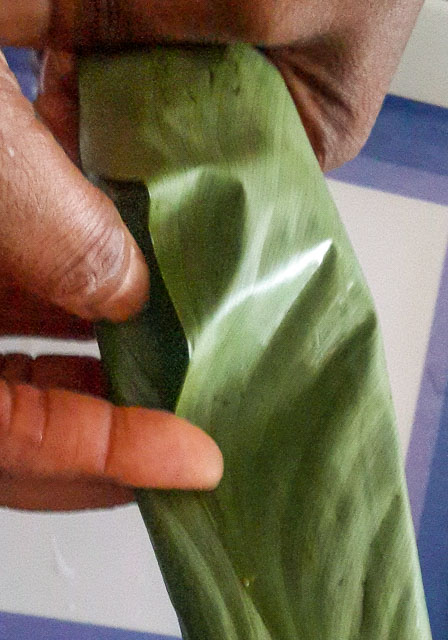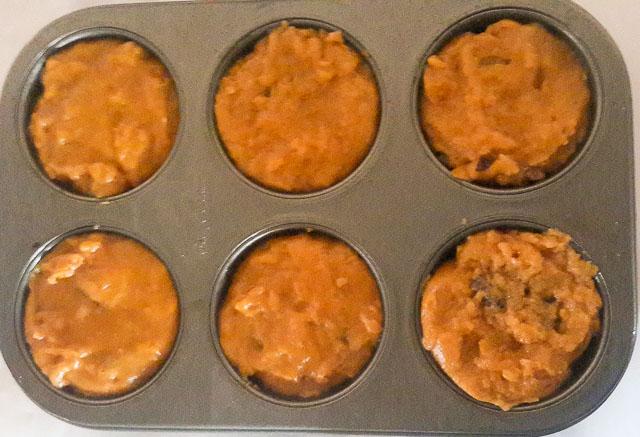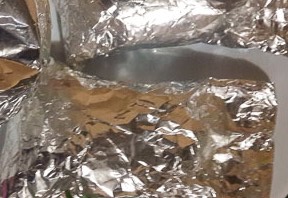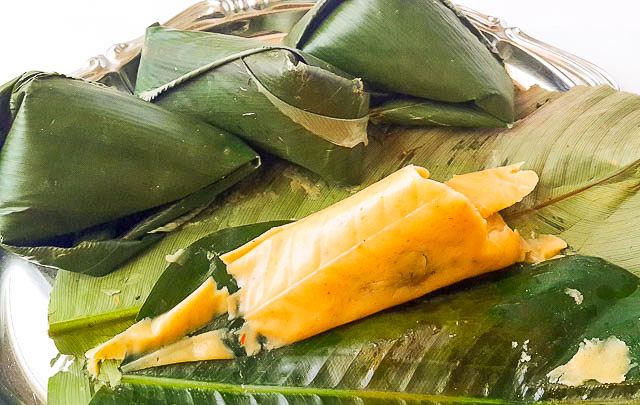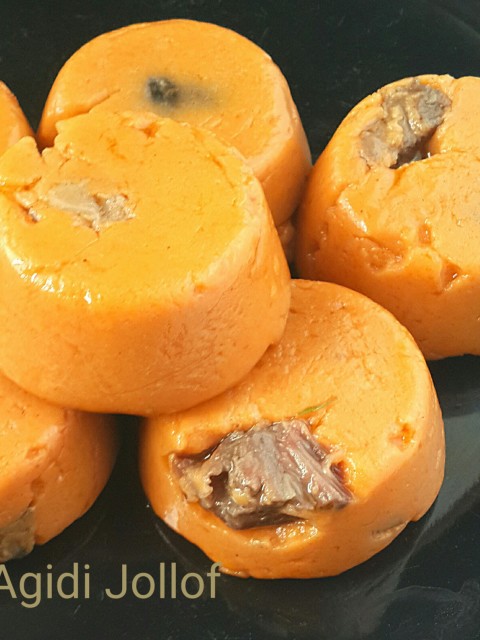 NOTE:
Boil a big batch of meat and freeze. That way, you will cut down on cooking time of your next batch of agidi jollof.
You can also use a pressure pot or slow cooker for your meat.
Use a very sturdy pot that will not dance around on your cooker when you are stirring and pouring the pap. If not, have someone hold the pot down. Remember the contents of the pot is very, very hot, so be careful.
Some home cooks use already made stew for their agidi jollof, it is good in its own way but make the agidi more mushy.
Some cuts of meat give richer tasting stock than others so don't be shy with your seasoning cube. If your stock doesn't taste so rich, add more seasoning cubes to help it.