Nigerian Tomato stew base is the nucleus of a large portion of Nigerian dishes. It is the flavour base of any dish prepared with it. Get it right and you are basically sure the dish will be phenomenal. It is a combination of tomatoes, tatashe (fresh paprika peppers), shombo (fresh cayenne pepper) and onions, pureed together and fried until 'dry'.
The secret lies in part, in the quality of the ingredients and their proportions, also your ability to fry the combination of vegetables 'dry'. Dry here simply means frying until you have eliminated enough water, there is no sourness and the oil has separated from the pureed tomato.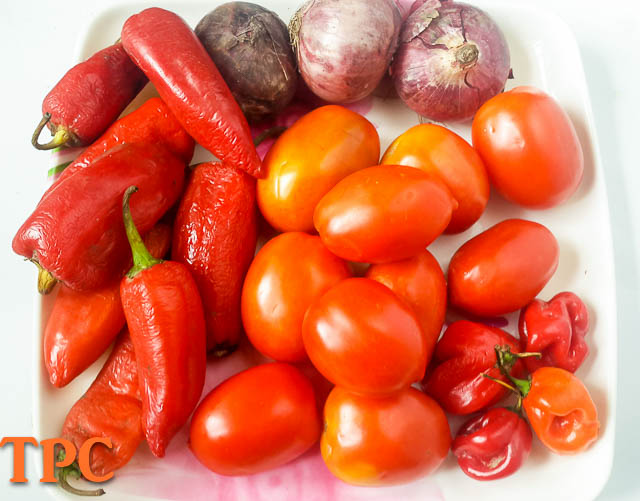 The tomato should be ripe, have a low water content, not be too acidic or have excessive seeds, so it will thicken and take less time to lose its moisture. Any type of plum tomatoes will be very good for the tomato stew base because they have a concentrated and robust flavour.
A combination of peppers can be used, some for their heat, others for their flavour and red colour. Scotch bonnet and Shombo (fresh cayenne) are hot peppers, used alongside tatashe for their colour. Red bell peppers or any good paprika pepper are a good substitute for tatashe.
Red onion is the onion of choice, although yellow onion is a good substitute. The oil is any tasteless vegetable oil.
Nigerian Tomato stew base can be used in cooking the Easy Nigerian tomato stew, jollof rice, jollof spaghetti, couscous, etc. It can be cooked and frozen, which saves the cook a whole lot of time.
For variety, I also make the palm oil stew, palm oil adds a different flavour profile to the dish and makes for a wider variety in its usage, because the palm oil version, can be used in preparing some native soups e.g Okro soup, Egusi soup, Efo riro (vegetable soup) etc. It is a make-ahead base for times like Christmas when you might need to feed guests at short notice.
To cook Nigerian Tomato Stew Base
660g tomato
220g tatashe
220g onions
4 scotch bonnet (fresh pepper, ata rodo)
2 cups vegetable oil
1 medium onion, sliced
To boil Nigerian Tomato Stew Base
Wash the tomatoes, peppers and onions, deseed the tatashe and put all in a blender.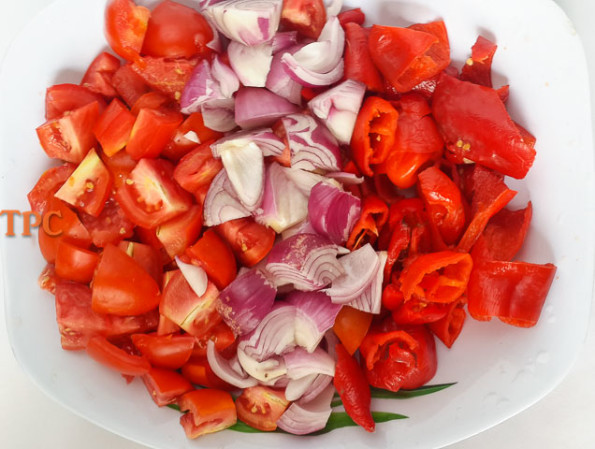 Blend into a very smooth puree.
Pour into a medium-sized pot and place over medium-high heat, do not cover the pot.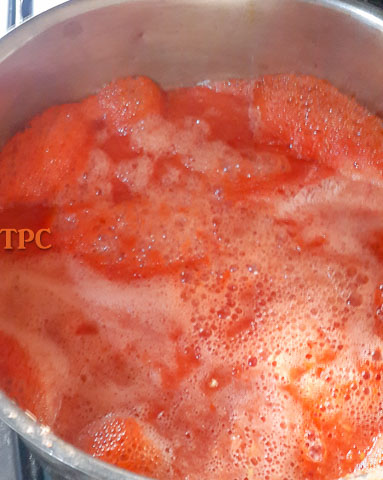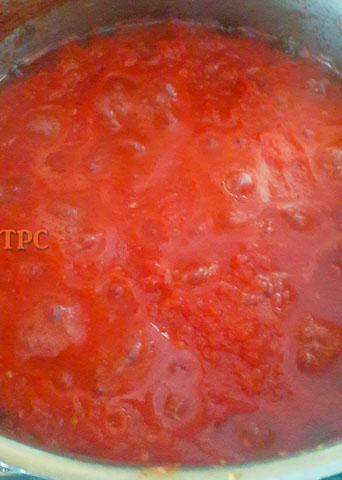 Boil till the liquid has evaporated.
Lower the heat in order to get more liquid out without burning the tomato puree. There will be small holes with no water bubbling through.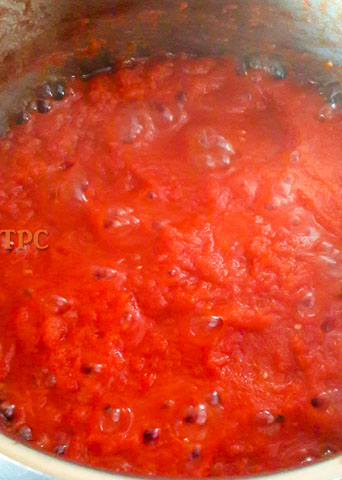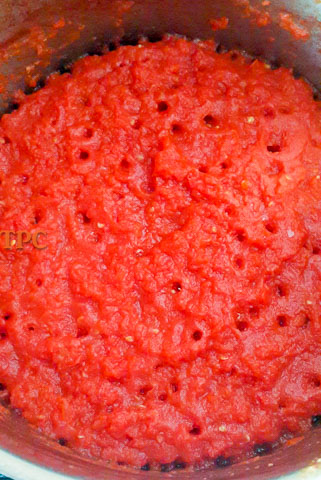 To fry 
Nigerian Tomato Stew Base
Pour the vegetable oil and sliced onions into the tomato puree, stir well and fry. OR
Place a dry clean pot over medium heat, add the vegetable oil.
When it is hot, add the chopped onions and fry till it softens and becomes translucent.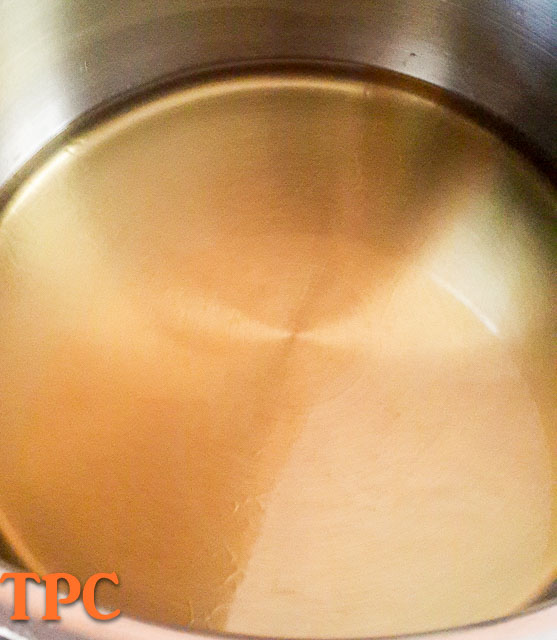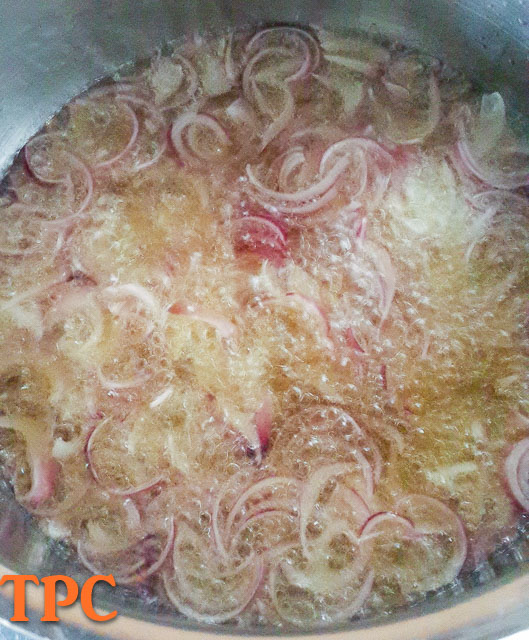 Add the boiled tomato puree, stir well and fry. Reduce the heat to medium-low and stir the paste frequently to avoid burning. Initially, the oil and tomato puree will mix and boil,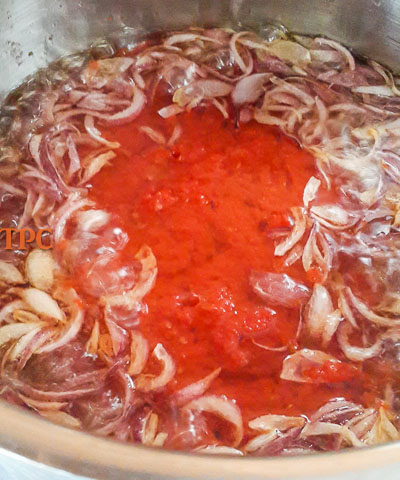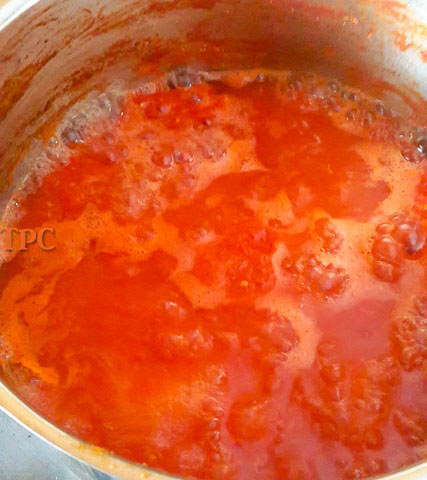 but as you keep frying, the oil will separate, this can take up to 20 minutes, just be patient.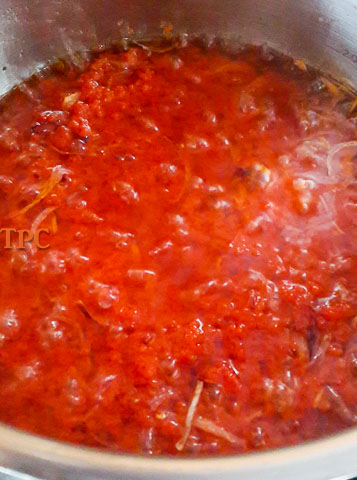 Taste to be sure the tomato is not sour anymore, take off the heat.
Use for Easy Nigerian stew, Jollof rice, Stew akwu (palm nut stew), jollof spaghetti, add to beans porridge etc.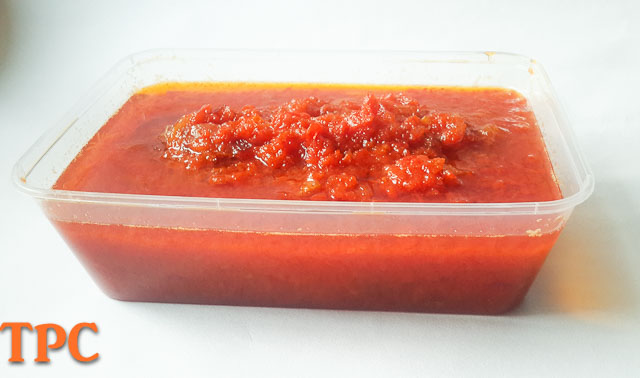 NOTE

:
A large amount of oil is necessary to aid in frying the tomato puree to the required degree of doneness without burning it.
When my tomato stew base is ready, I drain off as much oil as I can into a separate container and store it. This oil is precious because it is packed full of flavour. It can be used in frying a fresh batch of Nigerian tomato stew base, stir-fries, sauces, marinades, also in making agidi-jollof , or in any dish that requires infused oil.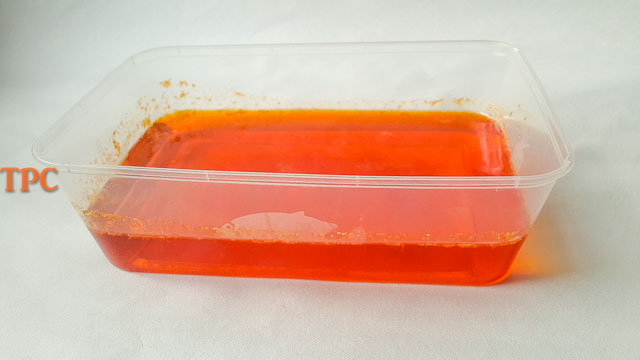 Some species of tomatoes, no matter how long you fry them, will remain sour, this is because of their high acidity. What I do is either add 1/2 teaspoon sugar or 1 teaspoon sweet coconut powder, this neutralises the sourness.
If you enjoyed my Nigerian Tomato Stew Base you will also enjoy my Cayenne Pepper Stew (Shombo Stew), Ofada Stew, Red pepper Ofada Stew, Nigerian fish stew (Imoyo) and Easy Nigerian tomato stew.
Do you have any comments, questions or suggestions, please leave a comment below.
Subscribe to the blog for instant notifications of new recipes.
Please share this recipe using the share buttons.
Follow on Instagram: @thepretendchefofficial, Twitter: @thepretendchef Facebook: https://web.facebook.com/thepretendchef/, Pinterest: https://www.pinterest.com/thepretendchef