Sweet potato tuna patties are rich and delicate. They are crunchy on the outside and soft, but not mushy on the inside, everyone will love them. Fish and potatoes are always a delicious combination, think fish and chips. This time they are married and living happily ever after and being that it is made with sweet potatoes, they whisper sweet nothings as you indulge. Ok, enough of my ramblings, all am trying to say is these patties are scrumptious.
Most times when we see sweet potatoes in the market we immediately think to boil it, fry it or roast it but there is so much that can be done with sweet potatoes besides frying and boiling. They are cheap and very nutritious and should show up on our dinner tables very often. The only problem is the monotony in our usage of this ingredient. Besides these patties, we can also make Sweet potato bread, sweet potato muffins, spicy roasted sweet potatoes etc. you can use your leftover boiled sweet potatoes for any of these recipes. They will enrich and diversify our menus.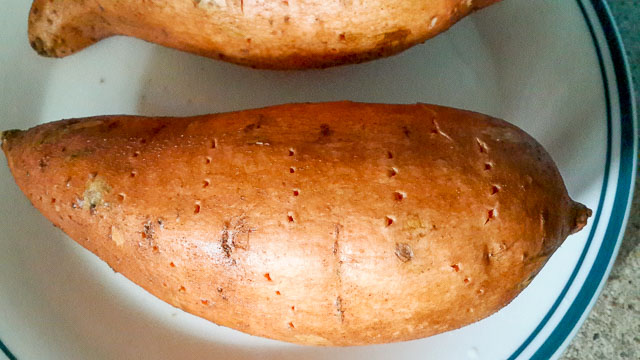 Sweet potato tuna patties are good for breakfast, lunch or dinner, serve them with a salad or coleslaw and a dip e.g. stew, ketchup, pepper sauce, salsa, sriracha sauce etc., they are excellent for lunch boxes too. These patties can also be baked for those who don't like fried food.
Possible additions to the patties
Sweet corn, green peas, curry powder, coriander, parsley, canned salmon, mackerel and sardines.
To make sweet potato tuna patties
1 medium sweet potato
180g can of tuna 
1/2 cup finely chopped spring onions
1/2 cup bread crumbs
1 egg
1/2 cup finely chopped red onions
1/2 finely chopped bell pepper (any colour) 
1/4 teaspoon garlic powder
salt
dry chili powder
oil for frying


Wash and peel the sweet potato, cut into cubes and boil till soft, drain.
Put back in the dry pot without any heat to dry out a bit, about 5 minutes. Place in a medium-sized bowl and mash, set aside to cool down enough to handle.
Or you can cook the sweet potato in the microwave oven.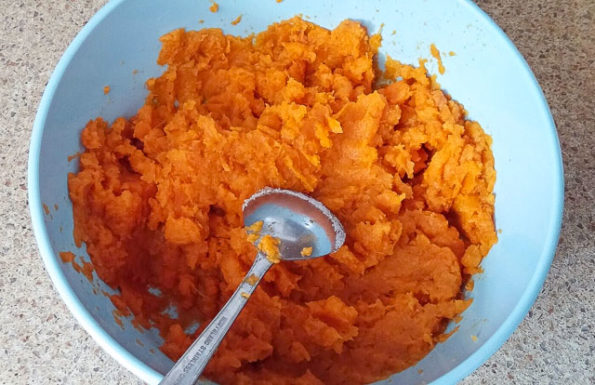 Drain tuna from water in the can, being careful to take out as much water as possible.
Flake fish with a fork.
Into the bowl of sweet potato mash, add tuna, spring onions, breadcrumbs, egg, red onions, bell pepper, garlic powder, salt and chilli powder.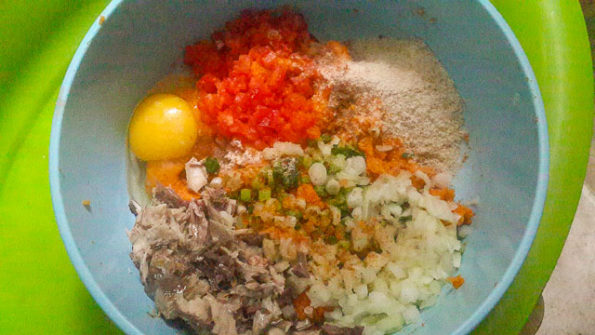 Using your hand, mix very well.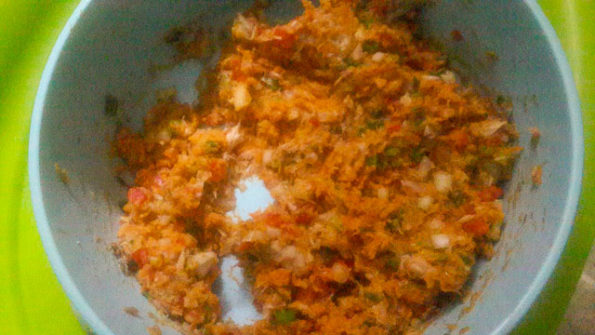 Form into patties, about 1/2 inch thick.
If they are sticky, place in the refrigerator while your oil is getting hot.
Heat about 1/2 inch of oil in a frying pan, over medium-high heat.
When the oil is hot, fry patties, do not overcrowd the oil.
Fry for 5 minutes, until golden brown, gently flip patties and fry the other side.
Drain on paper towels.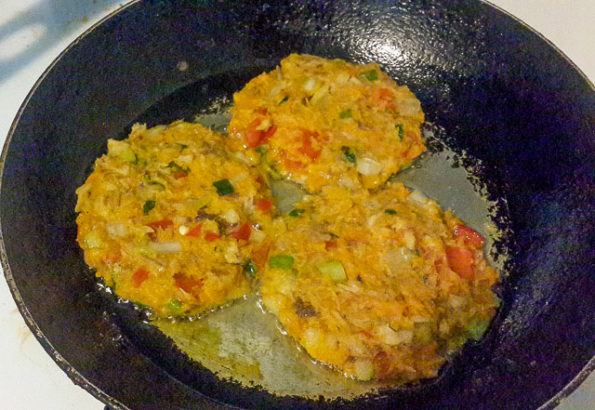 To bake
Grease a baking sheet with vegetable oil, arrange patties on it.
Bake in a preheated oven at 180 deg. C for 20 minutes, 10 minutes on each side.
Notes
For vegetarians, omit the egg and use bread crumbs, flour or oats as a binder.
Sweet potato tuna patties can be mixed ahead, stored in the refrigerator overnight and fried later in the morning and the kids will love you for it.
They also freeze well. Defrost in the refrigerator for one hour, or till totally defrosted, fry as usual.
If already fried, defrost patties in the refrigerator as above, place in the oven at 180 deg. C for 20-25 minutes, until the centre, is piping hot.
They can be shaped into fingers and fried for use as finger food.