It can arguably be said that Egusi Soup is the most universal of all Nigerian soups. It is nutty and mildly sweet, with the rich oil from the egusi seeds making it taste delectable.
Egusi soup is so versatile, it can be paired with a number of other soups e.g Egusi and Ogbono soup, Egusi in Ora soup, egusi in Okazi soup etc. Also, the leafy vegetables that can be added to it are so many, Ugu, Okazi, Onugbu (Bitter leaf), Uziza, Awa, Spinach etc.
Egusi or white melon seed is the seed of a type of melon native to tropical Africa. It is high in protein and good oils.
Besides using Egusi in soups, it can also be made into a wrapped pudding called Agbala oti. You can also use it in making Ogili egusi which is not as pungent as its castor seed counterpart, Ogili isi. Egusi seed can also be used as a dumpling called egusi akpurakpu, and the egusi oil, which is high in omega 6 etc.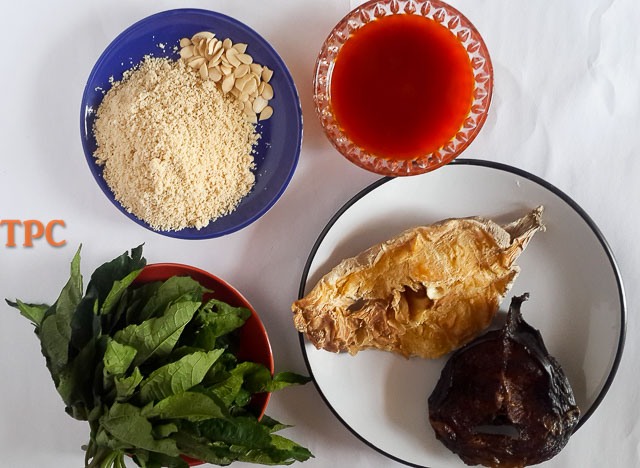 The seed is dried, shelled and ground for cooking soup. When buying Egusi seed, buy the hand-shelled one and also look out for egusi seed with high oil content, it tastes better.
There are so many ways of cooking Egusi soup, the dry powder can be fried in palm oil before cooking- fried Egusi soup, it can be made into a thick paste and either fried in lumps in palm oil or added to the soup broth. You can pour Egusi powder straight into the boiling soup broth etc. It all depends on your preference. I will post some of the many different methods.
This method here is easy and pretty straightforward also, it ensures you get lumpy Egusi soup.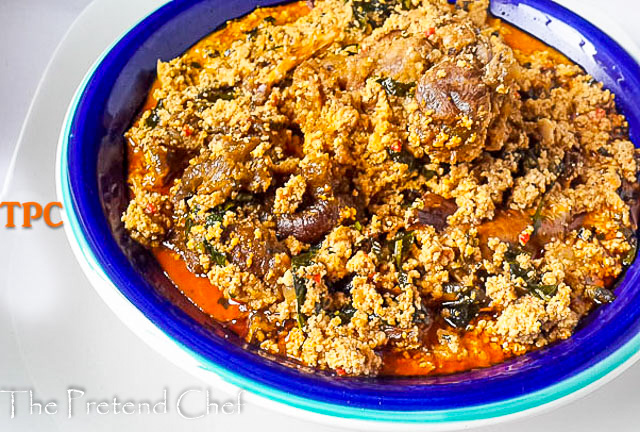 To make Egusi soup
3 cups egusi 
meat 
stockfish
dry fish
2 medium onions (1 cup chopped)
1/2 cup ground crayfish
3 seasoning cubes
15g ogili okpei
salt 
5 scotch bonnet (fresh pepper)
1/2 cup palm oil
15g uziza leaf (shredded, optional or uziza seed)
140g ugu leaf (shredded, fluted pumpkin leaf)
10 cups stock and water
Wash meat and stock fish and place in a medium-size pot over medium flame. Add enough water to cover the meat. Season with salt and seasoning cube. You can add some sliced onions. Boil until meat is tender.
Soak the dry fish in boiling hot water for about 2 minutes, drain and rinse well in cold water. Debone and add to the pot of boiling meat.
While the meat is boiling, grind egusi, using the dry mill of your blender.
Chop onions and grind or chop the pepper.
Mash ogili okpei in a little hot water.
In a bowl, put ground egusi, finely chopped onions, ground crayfish, seasoning cube, okpei, salt and pepper and mix well.
Add about 1/2 cup of hot stock from the boiling meat into the egusi bowl and mix very well to get a very thick paste. Set aside.
Wash uziza and ugu leaves and shred.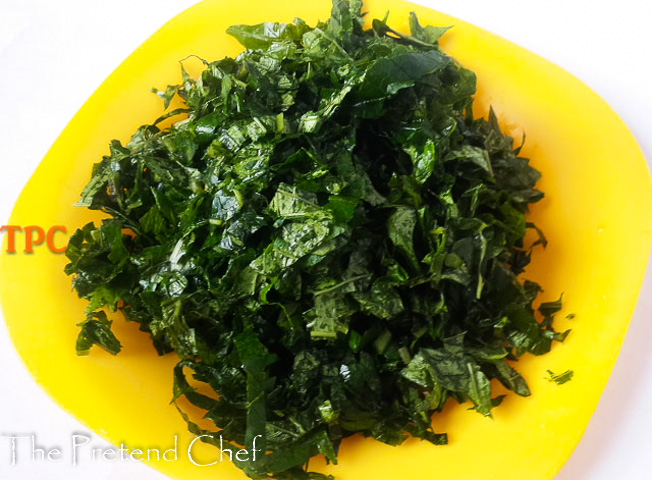 Add water to the pot of boiling meat to make up to about 10 cups of liquid.
Add palm oil and cook for 5 minutes.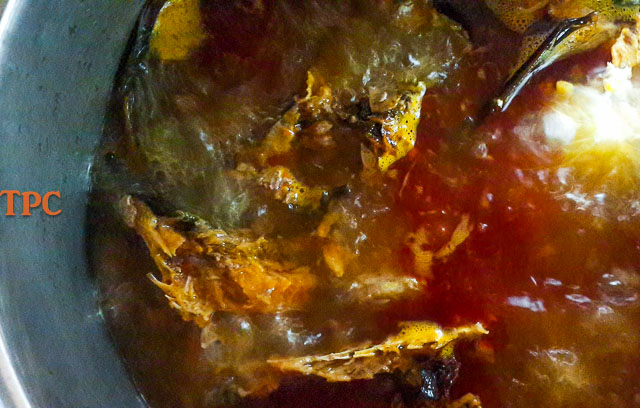 Lower the heat to medium-low and add the egusi paste in tablespoonfuls, very gently nudging it into the boiling liquid. Do not stir.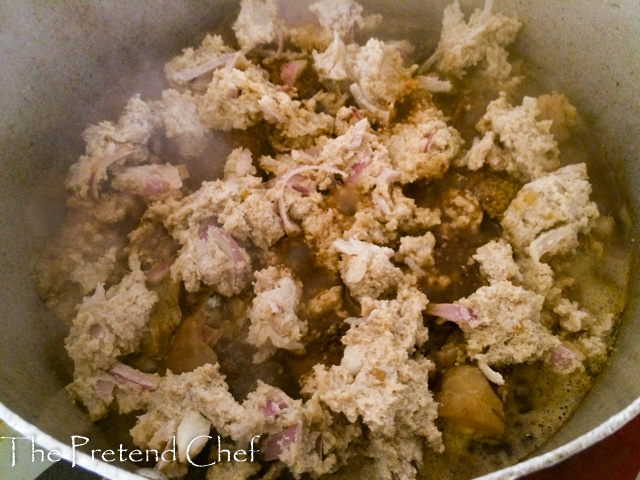 Cover and cook for 15 minutes without stirring, unless it is burning, then lower the heat even further and gently stir the soup. This will enable the clumps of egusi not to break apart before they are set.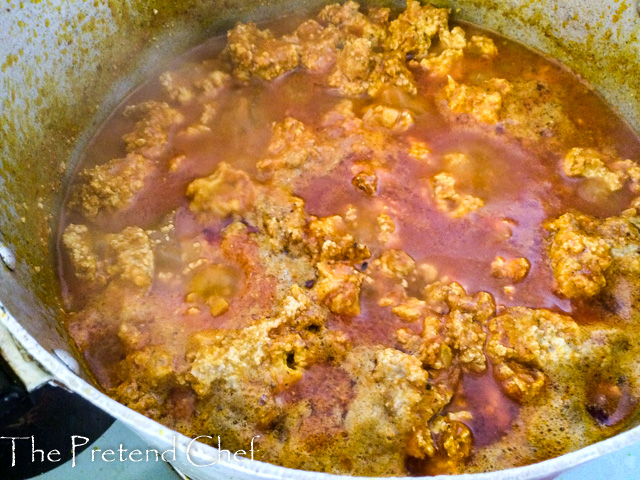 At this point, if the soup is getting dry, add a little water and stir gently.
Keep cooking until the rawness has gone out of the egusi. About 10 minutes.
Add uziza leaves and boil for 5 minutes.
Then add ugu leaves. Boil for another 5 minutes.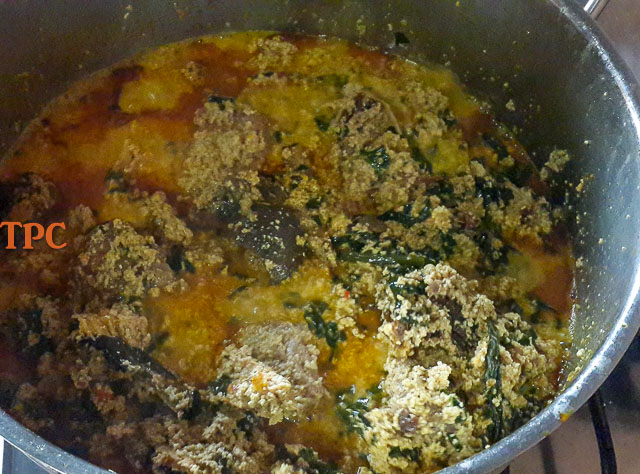 Take off the heat. It will thicken a little more as it cools down.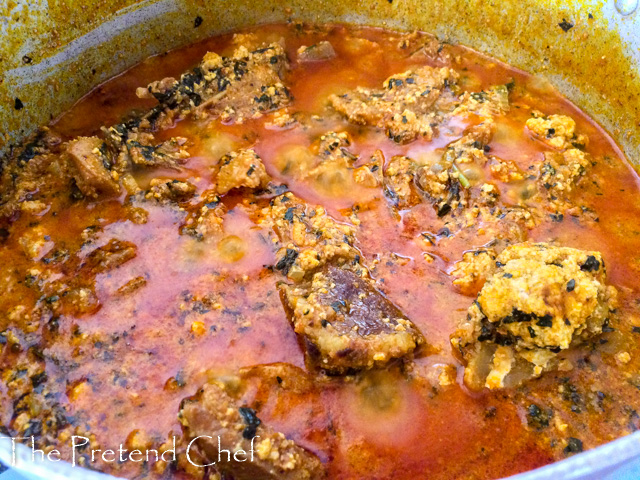 Serve with any swallow of choice, e.g Pounded yam, garri, Semovita etc or with plain boiled rice.
Notes
If you enjoyed my Egusi Soup, Lumpy Egusi soup, you will also enjoy my Fried Egusi soup, Egusi soup with Tomato sauce, Esa (Sesame seed) Soup and Egusi Jollof Rice.
Do you have any COMMENTS, QUESTIONS and SUGGESTIONS, please leave a comment below.
SUBSCRIBE to the blog for instant notifications of new recipes.
Please SHARE this recipe using the share buttons.
Follow on INSTAGRAM: @thepretendchefofficial, TWITTER: @thepretendchef FACEBOOK: https://web.facebook.com/thepretendchef/, PINTEREST: https://www.pinterest.com/thepretendchef/