If you are new to Nigerian cuisine, this should be your introduction. This easy Nigerian Tomato stew is primarily made up of tomatoes, peppers, onions (tomato stew base) and spices. It is closer to Italian pasta sauce than western stews. Tomato stew is eaten in practically every Nigerian home and is a lifesaver of sorts. You can't have a menu block or menu fatigue once you have stew, as it is called, in the freezer and most people always, always have a bowl of stew tucked away in their freezers. It is eaten with most staples, white rice, bread, yam, pasta, beans, sweet potatoes, Irish potatoes, agidi/eko etc.
I normally make a large quantity of the tomato stew base, which I store in the freezer. This can keep for a very long time without losing flavour. Ideal for the Christmas period when you need to whip up a delicious dish in a hurry.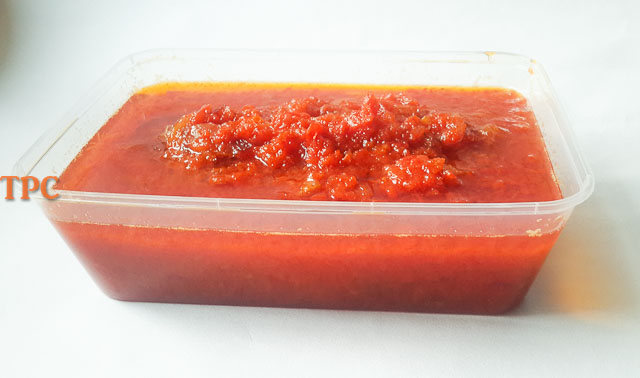 There are variations in the proportion of ingredients, types of protein used, spices, even the oil. I am giving you the most basic Nigerian tomato stew recipe. To learn the proportion of tomato to pepper etc, also to get more information, start from Nigerian tomato stew base.
I normally strain my meat or fish stock using a fine sieve before adding to my stew, because I don't like seeing bits, pieces and tiny chips of bone in my stew, this is totally optional.
To make easy Nigerian Tomato stew:
500g Beef, chicken, lamb, turkey, offals (any protein of choice)
1/2 medium onions
2 cups tomato stew base
1 teaspoon dry thyme
1 teaspoon curry powder
2 seasoning cubes 
1 teaspoon salt
Wash meat, place in a pot and season with 1/2 teaspoon each of salt, curry and thyme, add some sliced onions. Cook until tender.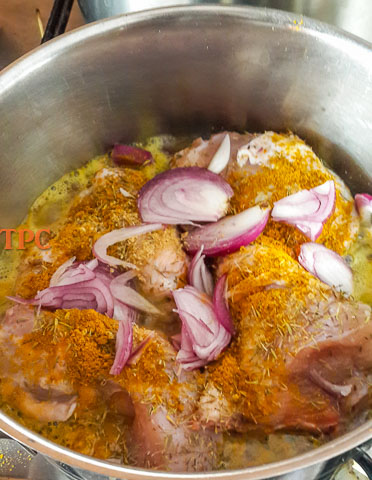 Take out the meat, strain the meat stock using a fine strainer into a bowl.
Rinse out any debris remaining in the pot. Place pot over medium heat, add the tomato stew base, and 2 cups of stock. Add dry thyme, curry powder and seasoning cubes, stir and taste, add salt.
Place the meat back into the pot.
Bring to a boil, cook for about 3 minutes, stir, taste and correct seasoning. Reduce to a simmer for 8-10 minutes. Take off the heat.
Serve with your preferred staple, Boiled white rice, boiled or fried yam, plantain, sweet potato, Irish potato, couscous, Spaghetti, bread etc.
Notes
Try and use non-reactive cookware anytime you are cooking tomato sauce or stew like Stainless steel pots, seasoned cast iron pot, wooden spoons. Tomato is acidic and will react with aluminium to give the sauce or stew a metallic taste.
You will also enjoy my Nigerian Palm nut stew (Stew akwu), Nigerian boiled stew, Egg stew, Fresh tomato sauce, Quick and easy tomato sauce etc. Do you have any comments, questions or suggestions, please leave a comment below.
Do you have any COMMENTS, QUESTIONS and SUGGESTIONS, please leave a comment below.
SUBSCRIBE to the blog for instant notifications of new recipes.
Please SHARE this recipe using the share buttons.
Follow on INSTAGRAM: @thepretendchefofficial, TWITTER: @thepretendchef FACEBOOK: https://web.facebook.com/thepretendchef/, PINTEREST: https://www.pinterest.com/thepretendchef/