When one thinks of the tropics, it's always the sun, blue skies and coconut. I just love coconuts, I love coconuts in curry, chocolates, rice, pigeon peas (fiofio) etc. The fresh aroma of coconut in the Nigerian coconut rice fills your kitchen, as it adds richness and flavour to your food.
My mother used to serve our Sunday lunch of rice and Tomato stew with sides of lightly toasted grated coconut, steamed green amaranth, roughly chopped peanuts, ground dry crayfish and so on. I would mix the coconut with my white rice and some salt and eat, no tomato stew, nothing else.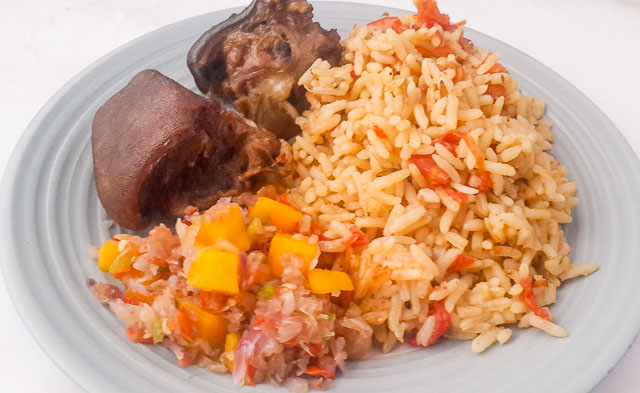 A little about the Nigerian Coconut Rice
In Nigeria, we have coconut jollof rice, coconut fried rice, my vegetable coconut rice and then the ultimate Nigerian Coconut Rice. In this dish, coconut is the main ingredient, every other ingredient is there to enhance the flavour of coconut. If you use too little, it will taste bland. That being said, it is still a savoury dish so don't go overboard with the coconut flavour or it will taste like a dessert.
Coconut rice has the tendency to become soggy and burn, so you will need to adjust the cooking temperature at different times. You can use fresh whole coconut, canned coconut milk or coconut powder. If extracting milk from fresh coconut, use a mature coconut to get the full coconut flavour. If using coconut powder, then make coconut milk from the powdered coconut.
I make my Nigerian Coconut Rice with a lot of onions, fresh pepper and tomatoes. I don't fry the tomatoes, this way it adds a lot of freshness to the dish and gives it a tinge of colour.
Coconut pairs well with seafood, goat meat and of course other tropical fruits.
You can serve your Nigerian coconut rice with Nigerian vegetable salad or coleslaw. I served mine with a side of mango salsa.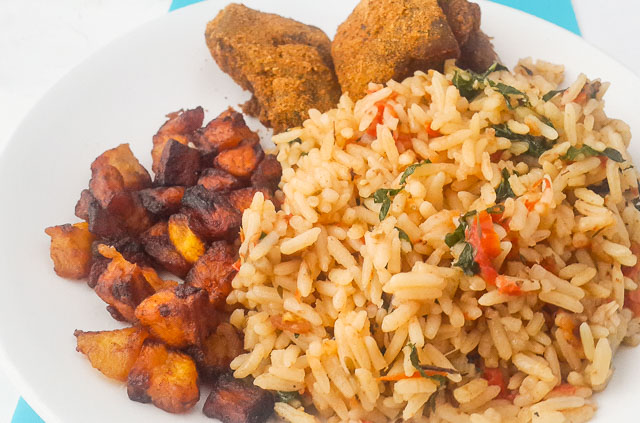 To prepare Nigerian coconut rice
4 cups rice
1/4 cup vegetable oil
3 medium onions
8 scotch bonnet (fresh pepper)
1 (400ml) can coconut milk 

OR

 1 1/2 cup homemade coconut milk
3 cups stock+water 
500g fresh tomatoes
3 tablespoons ground crayfish
2 teaspoons dry thyme
4 seasoning cubes 
salt



Optional spices and herbs


1 teaspoon crushed garlic
1 teaspoon crushed ginger
curry leaves (partminger)
scent leaf
Process fresh coconut to extract the milk. Use about 2 cups of water (Do not throw away the chaff, see below).
Wash rice, place in a pot, add enough water to cover the rice by about 1 inch. Boil until halfway done.
Drain rice in a sieve, rinse under cold water to cool it down and stop further cooking.
Set aside in the sieve.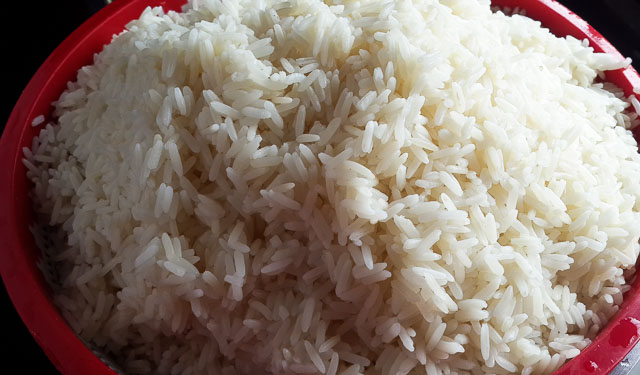 Slice onions and tomatoes, chop peppers. Set aside.
Place a clean dry pot over medium-high heat, add vegetable oil and fry onions.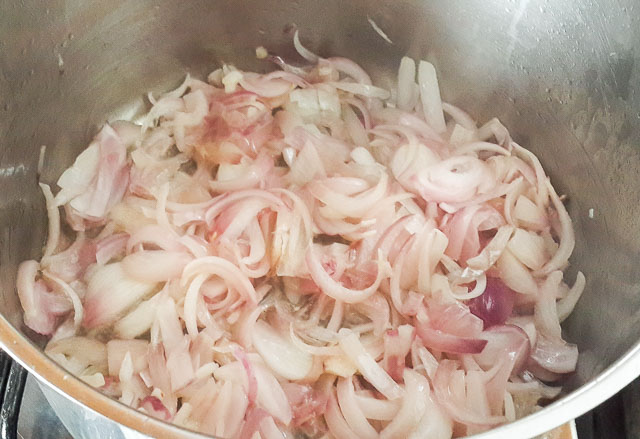 When it is soft, add chopped pepper and fry for 30 seconds.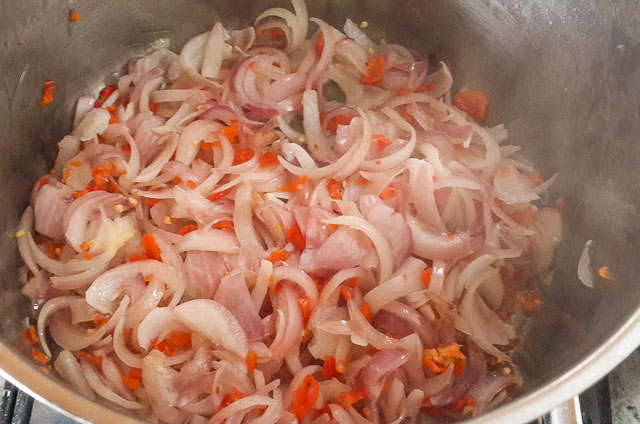 Pour in coconut milk, stock and water to make up to 4 cups of liquid or just enough liquid to cover the rice.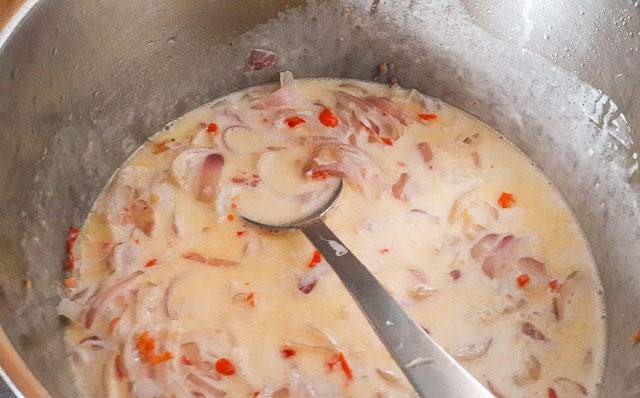 Add sliced tomatoes, crayfish, thyme, crushed seasoning cubes and any other optional spice you decide to use. Stir and cover.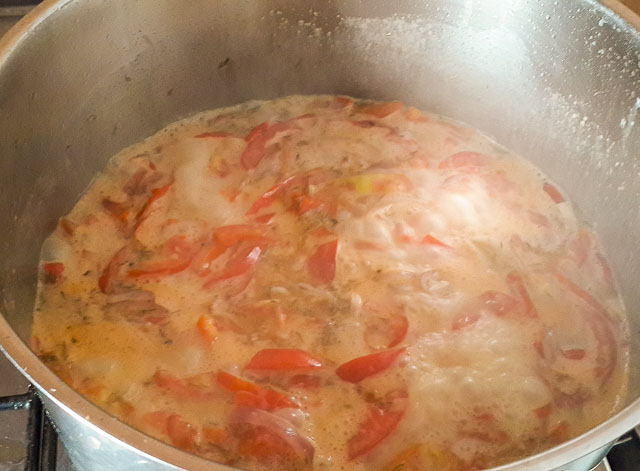 Bring to a boil, taste and add salt.
Pour in the parboiled rice and scent leaf or curry leaf (Partminger), stir and cover.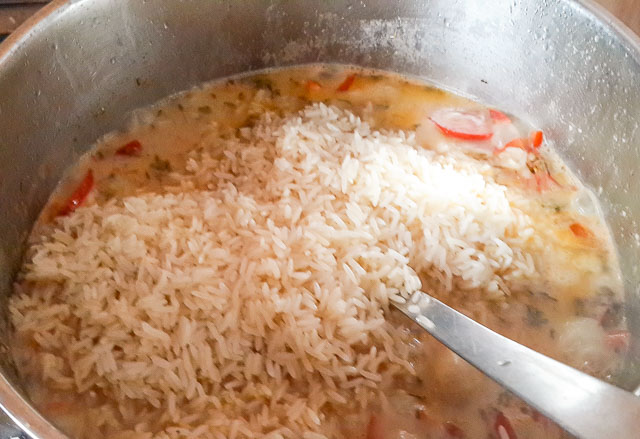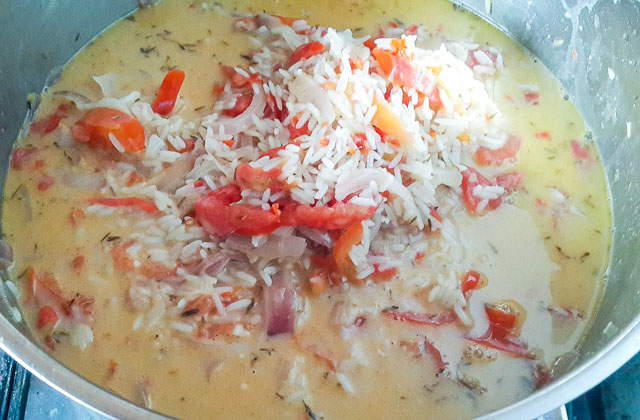 Cook until the rice is almost dry, stir gently and turn down the heat to a very gentle simmer.
Cook until all liquid has been absorbed.
If the rice is still hard, sprinkle some water over it, cover and keep steaming until the texture is right.
Take off the heat and leave to rest before serving.
Serve with Yaji spiced goat meat and fried plantains or mango salsa and fried goat meat, with a glass of mango lassi.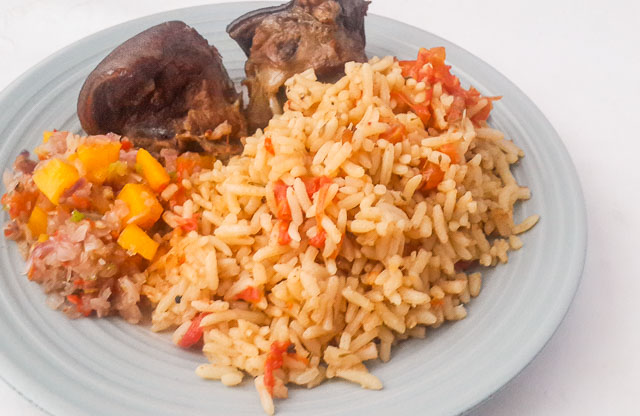 Note
The amount of liquid added to the coconut milk actually depends on how far or how well done you parboiled your rice. If the parboiled rice is almost soft, you will need to add less water but if it is still hard, you will need more water. It is better to use less and add more liquid later.
Resting helps absorb the last vestiges of liquid on the body of the rice, that way it won't have a wet feeling in the mouth or go soggy.
The resulting chaff can be used for coconut candy or Indian coconut ladoo.
You will also enjoy my Vegetable coconut rice, Nigerian fried rice, Basic Chinese fried rice and Nigerian Jollof spaghetti.
Do you have any comments, questions or suggestions, please leave a comment below.
Share this recipe using the share buttons. Subscribe to the blog for instant notifications of new recipes.
Follow on Instagram: @thepretendchefofficial, Twitter: @thepretendchef Facebook: https://web.facebook.com/thepretendchef/ and Pinterest: https://www.pinterest.com/thepretendchef/