Jamaican Rice and peas is a common accompaniment in Caribbean cuisine. In fact, Sunday lunch has to have rice and peas as a part of it and it is no ordinary rice and peas. The Jamaican rice and peas is well infused with flavours but mellow enough not to overpower the main dish.
When Jamaicans say peas, they are not actually talking about peas but red kidney beans.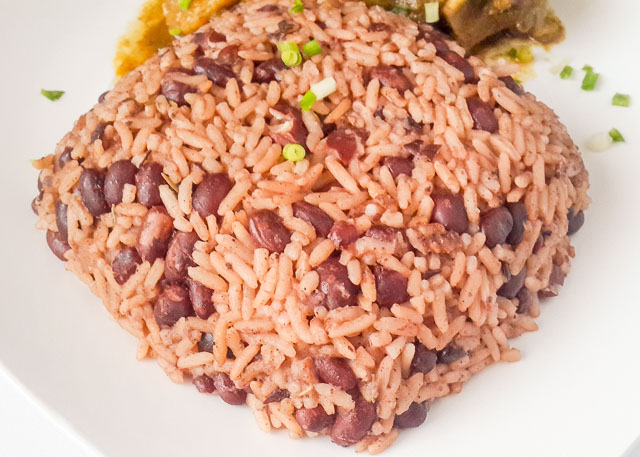 The Scotch bonnet is added whole, it's used only to infuse the dish with its flavour but not for its heat. Fish the pepper out without breaking it when the rice and peas are ready.
Pimento can be added either ground or whole.
Fresh, canned or powder coconut milk can be used. For canned, use unsweetened coconut milk and for the coconut powder, reconstitute it.
Jamaican rice and peas can be eaten with Jamaican goat curry, Jerk Chicken, Tomato stew, Tomato sauce etc.
To prepare Jamaican rice and peas
1 cup red kidney beans or 2 1/2 cups canned red kidney beans 
2 cloves garlic, crushed
2 cups rice
1 whole scotch bonnet
2 scallions
2 1/2 cups coconut milk
1 teaspoon salt
1 teaspoon black pepper
1 teaspoon thyme or 2 sprig of fresh thyme
Pick out any grits from the beans and rinse in cold water. Place beans in a bowl and add enough water to cover it.
Place beans in a bowl and add enough water to cover it.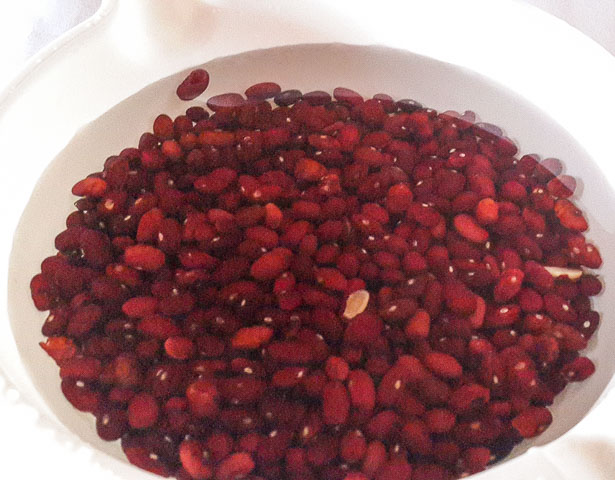 Leave to soak for 2 hours to overnight, I soak overnight.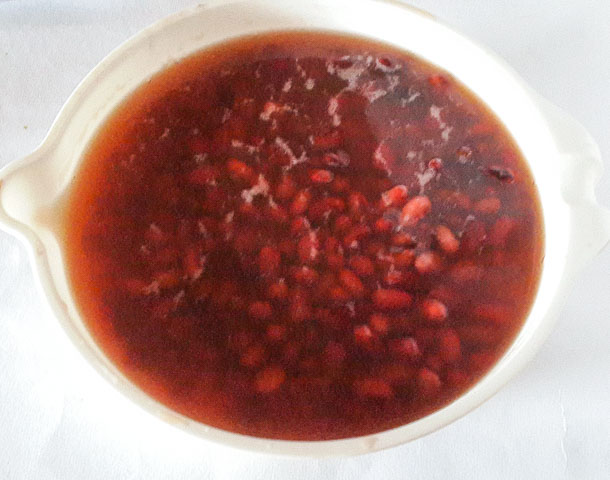 Drain beans from the soaking water.
Place beans in a pot with 5 cups of water, add crushed garlic and cook until tender, about 1 hour.
The cooking water will turn reddish, it is what gives the dish its characteristic off-white colour.
Rinse rice in several changes of water until water runs almost clear, about 3-5 times,
Add the rice, whole scotch bonnet, scallions, coconut milk, salt, black pepper and thyme.
Stir and bring to a boil, reduce the heat to a simmer.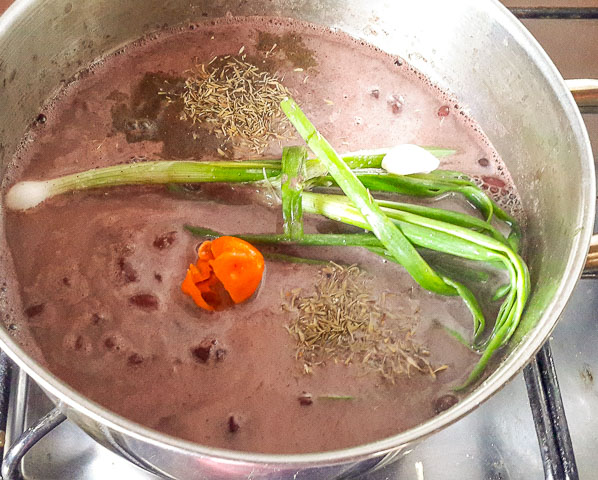 Cover the pot and cook until rice is soft but not mushy.
You might need to add a little more water if rice is still too hard.
Take off the heat and leave to stand for 5-10 minutes.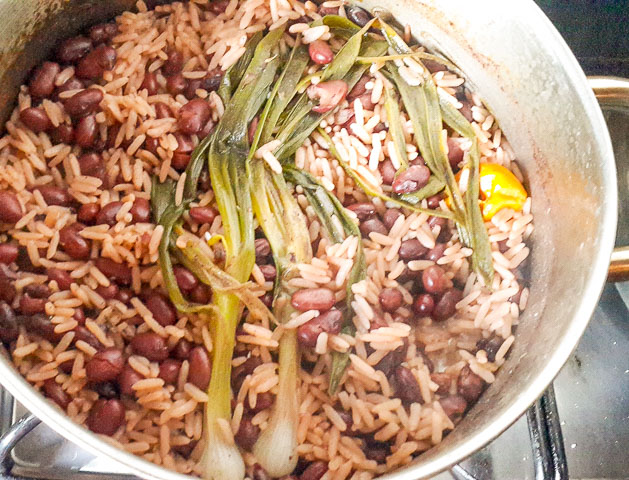 Pick out the scallions and scotch bonnet, fluff gently with a fork and serve.
Notes
If you are using canned kidney beans, they are already cooked, so just empty both beans and the liquid from the beans into the pot with the other ingredients and bring to a boil. Wash rice and add, stir and cook till rice is ready.
If you are using a slow cooker, it is advisable to boil red kidney beans vigorously a minimum of 10 minutes before reducing to a simmer. That is the only way to ensure that toxins in the beans are eliminated.
Serve rice and peas as an accompaniment to Jamaican goat curry, Brown stewed chicken, Jerk chicken and creamy coleslaw, Curry chicken, brown stew fish etc.
If you enjoyed my Jamaican rice and peas, you will also enjoy my Nigerian Coconut Jollof rice, Nigerian coconut rice, Vegetable coconut rice and Nigerian tomato rice. Also, check out my Jamaican grater cake made with grated coconut and Pina Colada.
Do you have any COMMENTS, QUESTIONS and SUGGESTIONS, please leave a comment below.
SUBSCRIBE to the blog for instant notifications of new recipes.
Please SHARE this recipe using the share buttons.
Follow on INSTAGRAM: @thepretendchefofficial, TWITTER: @thepretendchef FACEBOOK: https://web.facebook.com/thepretendchef/, PINTEREST: https://www.pinterest.com/thepretendchef/