Nigerian Egg Stew is not really a stew in the sense of it, rather it is more like a relish with eggs added or scrambled eggs with plenty of tomato and onions. So I am thinking Nigerian Egg Relish or Nigerian scrambled egg with tomatoes? No, no, I don't think so, but the Nigerian Egg Stew by any name will still taste awesome. It is very simple to make, with few ingredients, and short cooking time.
I love this basic version of the egg stew, in fact, this is what we cook most times in my home. A lot of other vegetables, meat and fish can be added to make it heartier, feel free to experiment after you have tried this plain version. Bear in mind that it needs a sizable amount of onions to balance the acidity of the tomato which won't be fried for long.
There are two types of the Nigerian egg stew. In one, the egg is in tiny pieces or crumble and in the other, the chunks of the egg are large. The one with large chunks of egg is what I cook and I feel it has more visual appeal, but it's all a matter of preference.
Optional extra ingredients:
Red, green, yellow bell peppers 
green chilli
spring onions
broccoli
mushrooms
chives
basil
green amaranth
spinach
cheese
bacon
sausage
ham
minced meat
corned beef
canned tuna
pepperoni
mackerel
shredded beef
chicken
pork
diced potatoes.
To make the Nigerian Egg Stew:
2 large tomatoes
1 large onions
3 scotch bonnet (fresh pepper)
1/3 cup vegetable oil
2 seasoning cubes
1/2 teaspoon salt
Wash tomato, onions and pepper.
Cut and remove seeds from tomatoes, then chop.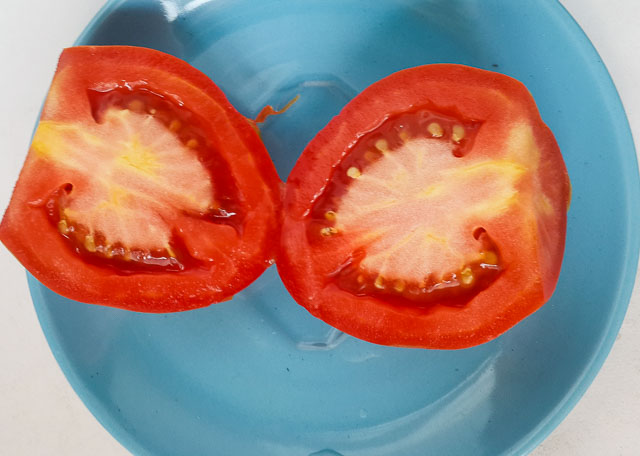 Chop onions and pepper. Set aside.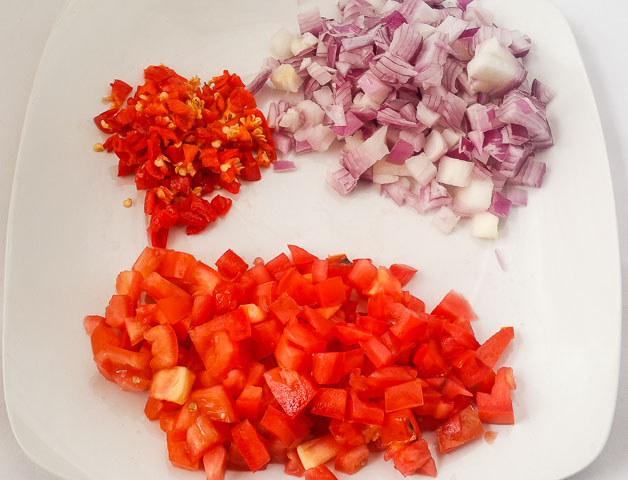 Crack eggs into a bowl, sprinkle half of the salt and beat with a fork or balloon whisk. set aside.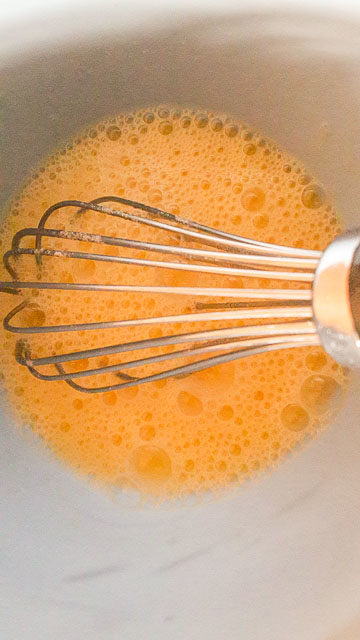 Pour vegetable oil into a dry frying pan and place over high heat.
When the oil is hot, add the onions, tomato and pepper.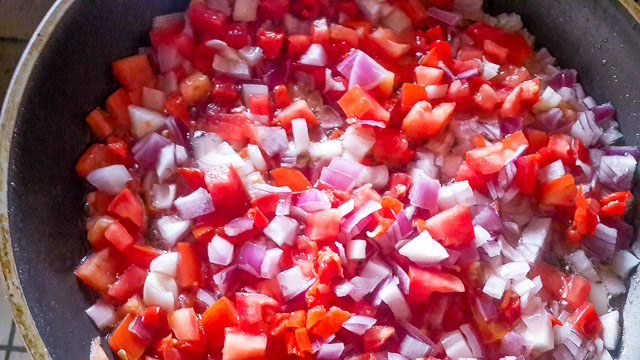 Fry until the onions is translucent and oil has reappeared in place of water. This can take less than 5 minutes.
This can take less than 5 minutes.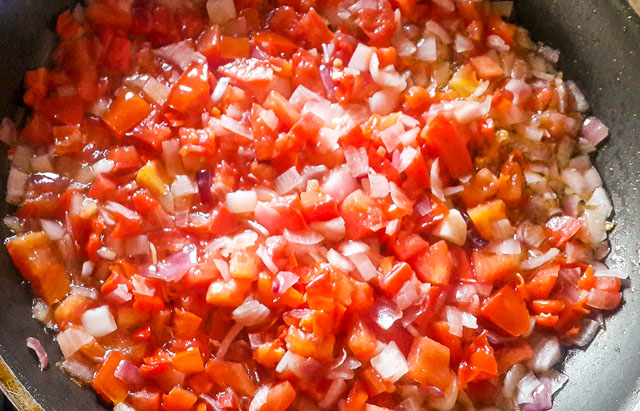 Add the seasoning cubes and the remaining half of the salt. 
Stir to distribute properly.
Pour in the eggs, making sure you pour it evenly over the frying vegetables. 
Reduce the heat slightly to medium-high.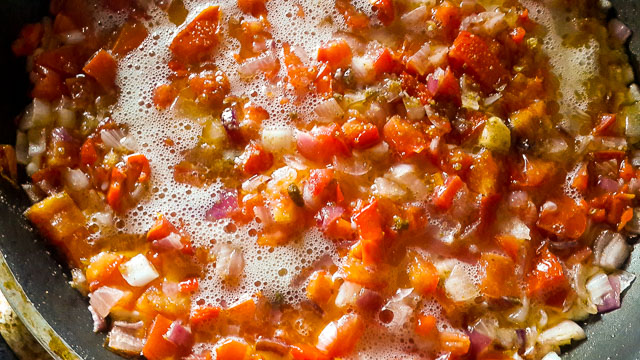 Do not stir, till the egg at the bottom has solidified. Gently flip over in portions, lifting large chunks.
Gently flip over in portions, lifting large chunks.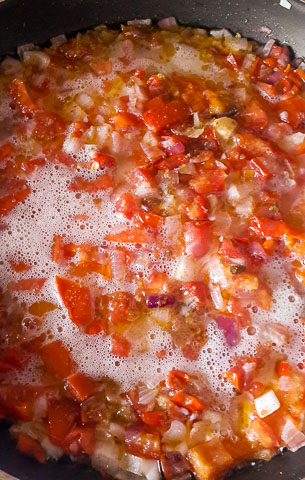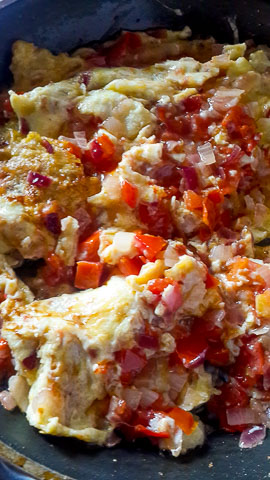 Keep turning, not stirring till there is no more raw egg. Take off the heat. The residual heat will firm up the egg but not dry it out.
The residual heat will firm up the egg but not dry it out.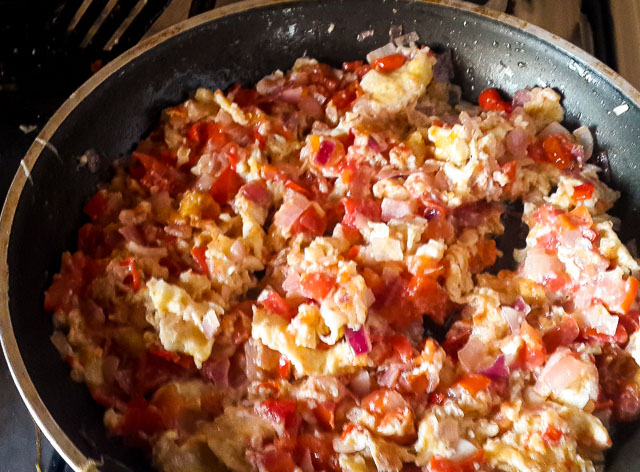 This way you get soft and fluffy Nigerian Egg Stew.
Serve with fried or boiled yam, plantain, sweet potato, Irish potatoes, macaroni, fresh or toasted bread, cooked noodles etc.
Note
Removal of the tomato seeds will eliminate sogginess.
If you want the crumblier version, you can leave the seeds in or de-seed, it doesn't matter. Fry as above. Upon the addition of the eggs, stir to mix properly with the vegetables. Reduce the heat to medium-low and cook. Initially, a sizeable amount of water will leach out, continue cooking till this water drys out stirring from time to time. Take off the heat.
High heat is necessary when frying the tomatoes so that it won't leach out too much water and end up dry and broken down like tomato stew. It will make the egg stew dry and crumbly. Freshness is desirable.
Let me know what you think of the Nigerian egg stew in the comments below also do you have any questions or suggestions, do let me know. Do you like it crumbly or chunky?
You can try making my mackerel in tomato sauce, it is awesome, you will also enjoy my Fresh tomato sauce, Quick and easy tomato sauce, Sweet Potato Tuna patties and Nigerian smoked fish sauce.
Share this recipe using the share buttons. Subscribe to the blog for instant notifications of new recipes.
Follow on Instagram: @thepretendchefofficial, Twitter: @thepretendchef Facebook: https://web.facebook.com/thepretendchef/ and Pinterest: https://www.pinterest.com/thepretendchef/